Relax and Refresh at Our Onsen-style Bath
After a day of exploring the local area or attending business meetings, there's no better way to unwind than a long, leisurely soak in our onsen-style bath.
( Not a natural hot spring )
In addition to a large communal bath, our facility also offers several types of flowing pot-style baths.
The men's bath area includes three different options: "Houmesshu no Yu" (Sake bath), "Sayu" (plain hot water), and "Mizuburo" (cold water bath).
The women's bath area has two options: "Houmeishu no Yu" and "Sayu." For those who prefer to bathe at a moderate distance from other guests, we recommend the pot-style baths.
What is "HOUMEISHU"?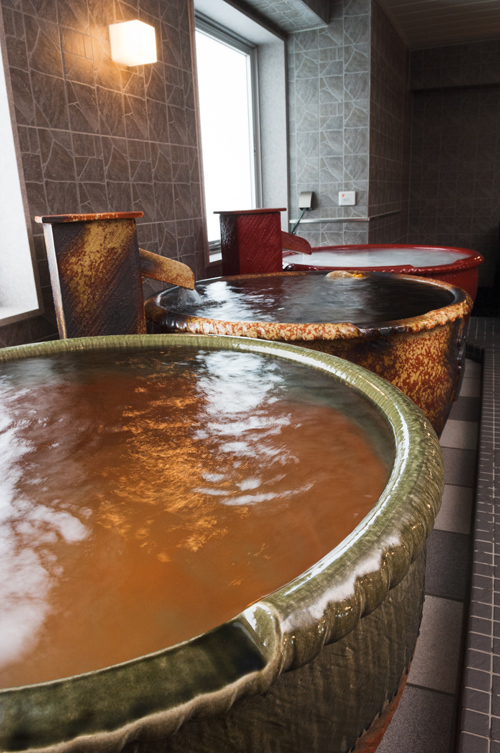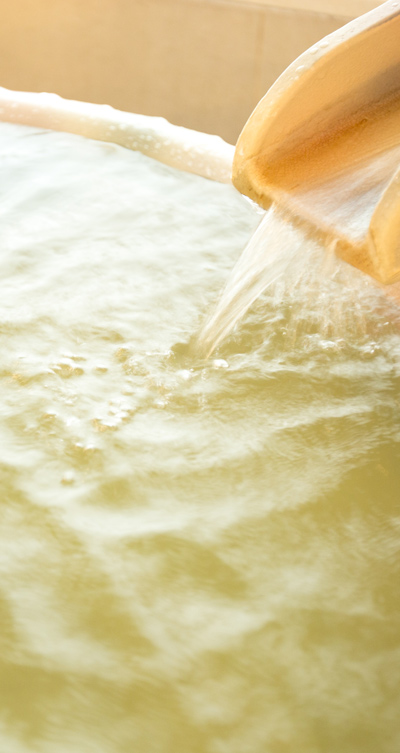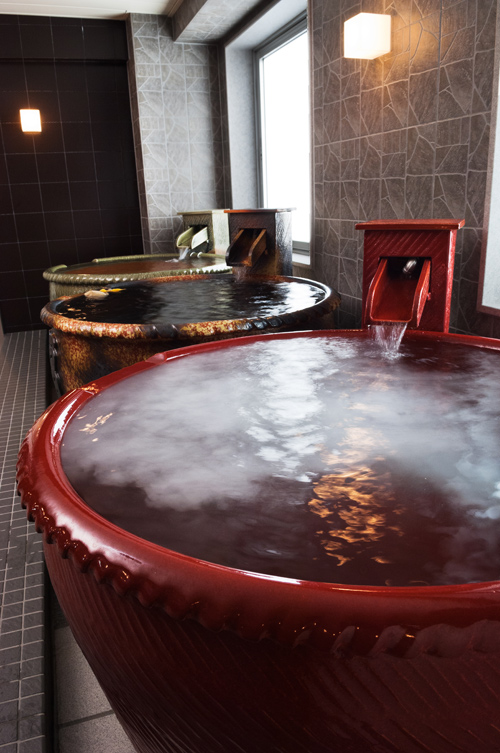 Houmeishu is a medicinal sake brewed in Tomon-cho, Fukuyama City.
It contains 13 types of Chinese herbal medicine and is sometimes called "SETOUCHI's Yomeishu," a popular Japanese herbal liqueur.
It is known for its sweet taste and is often enjoyed as an aperitif or before bed.

At Fukuyama Oriental Hotel, we take the herbs used in the brewing of Houmeishu at the Ienomi Toyosaburo Honke and put them directly into the kettle bath.
This is believed to promote metabolism and warm the body from the core, helping to alleviate coldness, rough skin, swelling, fatigue, and other symptoms.
Safe and comfortable arrangement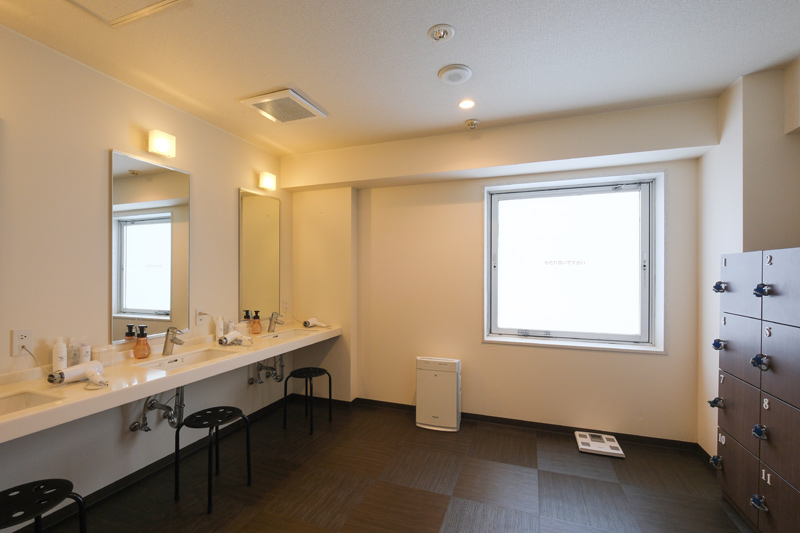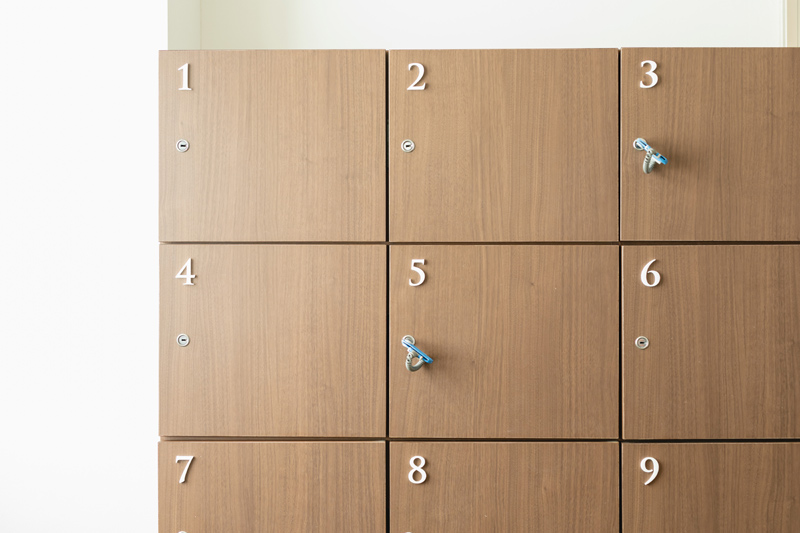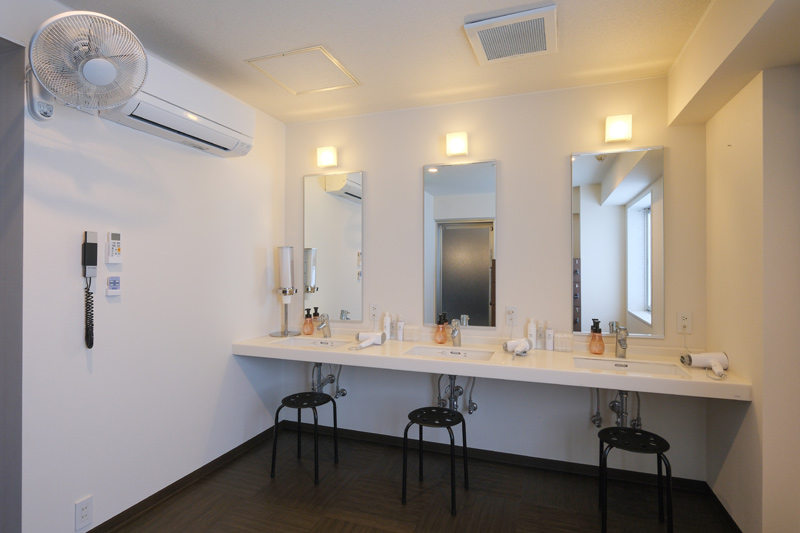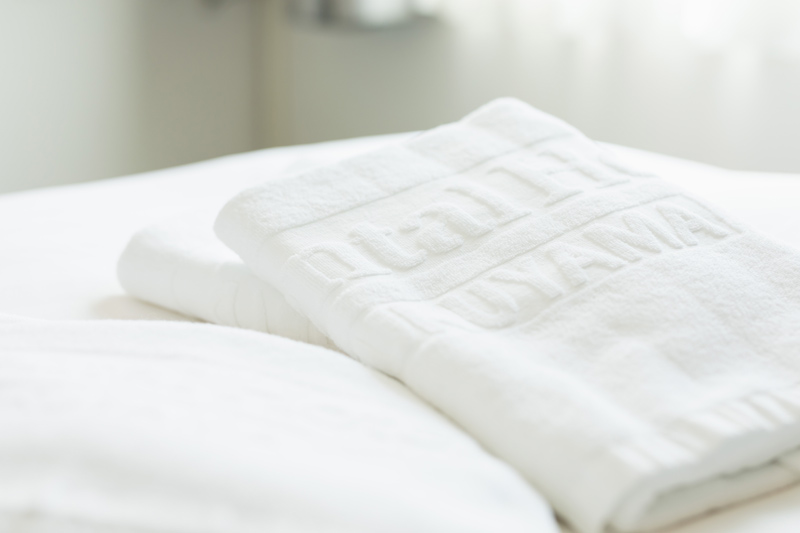 ReFa FINE BUBBLE
We have prepared the "ReFa FINE BUBBLE" showerhead in the women's communal bath, which provides a pleasant ultrafine bubble experience.
The fine bubbles penetrate deep into the pores and remove dirt, as well as floating and removing large dirt trapped in the pores.

Security:
Please leave your luggage in the locker with a key. To enter the women's bath, you need to use an IC card, so you can bathe with peace of mind.

Dressing room: We strive for frequent cleaning, so the dressing room is always clean and comfortable. We also manage the air conditioning properly, so please change clothes with peace of mind.

Amenities:
We have prepared a set of MUJI cleansing and basic cosmetics for female customers in the washroom where you can prepare yourself after bathing.

Soap:
All shampoos and body soaps in the facility are POLA Aroma Essence Gold, with a slightly sweet and gentle aroma to heal your mind.

Free additional towels:
Additional face towels and bath towels are free of charge. Please feel free to ask the front desk if you need any.
Book Now